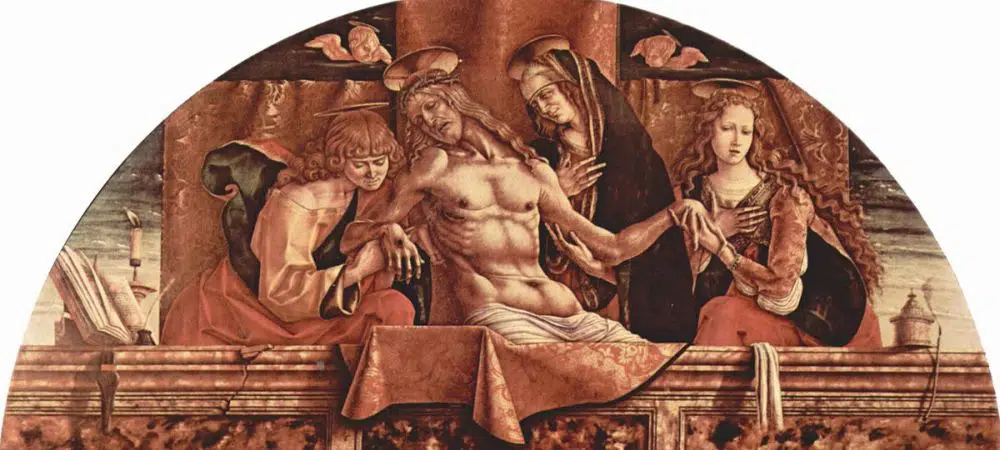 Carlo Crivelli – Venice 1430/35, Ascoli Piceno 1494/1500
Carlo Crivelli was born in Venice but nothing is known of his learning, perhaps completed at Jacopo Bellini's workshop. In 1457 he was accused of adultery and from the documents it is clear that at that date the artist was working on his own. The first work signed and dated around 1460 is the "Madonna of the Passion" today at the Castelvecchio Museum in Verona. A painting that reveals the knowledge of the Paduan art and the ambiance of Francesco Squarcione's workshop.
Crivelli in the Marche
Crivelli spent some years in Zadar before moving to the Marches in 1468 where he painted the polyptych for the church of San Silvestro at Massa Fermana. Perhaps since 1469 he settled in Ascoli. Of the 1470 is the "Porto San Giorgio Polyptych". Divided between various museums, the central table is located at the National Gallery in Washington. And shortly afterwards he realizes the one for the church of San Francesco in Montefiore dell'Aso in the province of Fermo. Also this dismembered where the paintings left in Montefiore are located in the church of Santa Lucia.
The artist's polyptychs
In 1473 Carlo Crivelli realizes the polyptych of Ascoli's cathedral, which still occupies the original position in the chapel of the Blessed Sacrament. Most of the panels that made up two other polyptychs from 1476 are found today at the National Gallery in London. Always in London there is also the "The Annunciation, with Saint Emidius" painted in 1486 for the church of the Santissima Annunziata in Ascoli.
The last works of Carlo Crivelli
Carlo Crivelli realizes two other works during the last years of activity. In about 1490, he painted the polyptych of the cathedral of Camerino whose central panel, the so-called "Madonna della candeletta", is today at the Pinacoteca di Brera in Milan. In 1493, it followed the "Coronation of the Virgin" for the church of San Francesco in Fabriano, and also this exhibited at the Pinacoteca di Brera.
Some of Carlo Crivelli's works