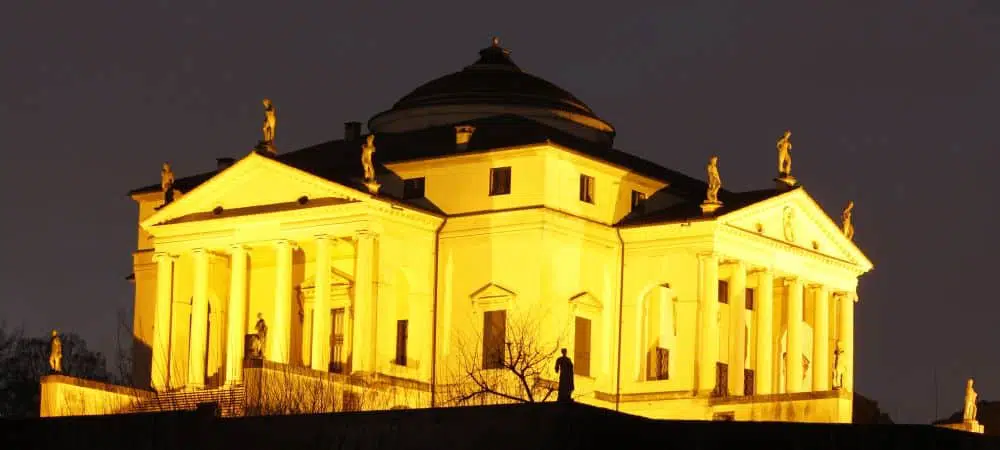 Andrea di Pietro della Gondola known as Palladio – Padua 1508, Maser Treviso 1580
Andrea was very young when he moved to Vicenza, where he worked as a stonemason. The classical appellation of Palladio is given to him by the scholar Gian Giorgio Trissino, who around 1537 had engaged him in the construction of his villa in Circoli. It is the humanist that introduces him into the Venetian cultural circles, and provides to his formation that will make one of the most important Venetian artists as an architect of the Renaissance.
Palladio, Venetian Renaissance architect
It is with Trissino that Andrea Palladio made important journeys to Rome during the forties. And this allows him to study directly the ancient monuments and the works of the great artists of the early Renaissance.
Vicenza and the Palladian villas
In 1549 it has entrusted him the reconstruction of the Palazzo della Ragione of Vicenza, which Palladio reinterpreted in classical terms of basilica. This official assignment confirms definitively the artist's position towards the Venetian aristocracy, for whom he worked extensively. Above all in the construction of country villas, and among these the villa Capra called La Rotonda, villa Cornaro in Piombino Dese, villa Emo in Fanzolo.
After the death of Trissino, the learned prelate Daniele Barbaro becomes his main mentor: for him Andrea Palladio performs the illustrations of an edition of the treatise "De Architectura" of Vitruvius and realizes the villa of Maser, known precisely as Villa Barbaro. In the sixties he was entrusted with several works in the city of Venice, such as that relating to the church of San Giorgio Maggiore, begun in 1566.
The official architect of the Serenissima
In 1570 he is nominated official architect of the Serenissima and in the same year he published the "Quattro libri di architettura", in which he developed the theoretical foundations of his work. The Church of the Redeemer, built starting in 1577, is one of the main achievements in Venice.
Palladio's latest work is the project for the Olympic Theater of Vicenza, inaugurated in 1585, after the architect's death, with a scene created by Vincenzo Scamozzi.
Find more in-depth information on the page dedicated to this great architect of the Venetian Renaissance
Some of Andrea Palladio's works