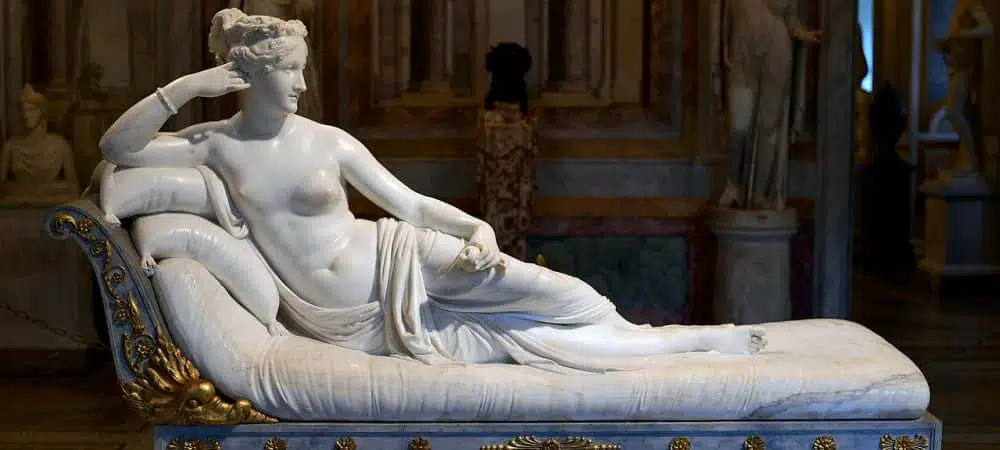 Antonio Canova – Possagno (TV) 1757, Venice 1822
Antonio Canova was born in Possagno, in the province of Treviso. His father was a stonemason and his apprenticeship took place in Veneto region. Between 1768 and 1775, he opened his first studio as a sculptor in Venice in the cloister of Santo Stefano. From 1768 he attended the academy courses, studying and drawing the plaster casts of ancient sculptures. Antonio Canova remained in Venice until 1779 where he received numerous important commissions.
Antonio Canova in Rome
He moved to Rome where he deepened his knowledge of classical sculpture. He attended the French Academy's nude courses and Pompeo Batoni's school of painting. Rome becomes the center of his activity where he affirms himself with a series of prestigious commissions. Antonio Canova,as an Italian artist, reaches his summit with the monument to Clement XIV (1784-87) in the Basilica of the Holy Apostles and with that to Clement XIII (1783-92) in St Peter's basilica.
In the last decade of the 700, Canova creates some famous marble works, like "Psyche Revived by Cupid's Kiss" (Paris, Musée du Louvre), "Venus and Adonis" (Musée d'Art et d'Histoire, Geneva, Switzerland) and the "Perseus" (Rome, Vatican Museums).
In Paris for the Bonaparte family
In 1802 Antonio Canova was called to Paris to perform the portrait of Napoleon Bonaparte. In the first decade of the nineteenth century he still worked for the Bonaparte family, sculpting the portraits of Maria Letizia (mother of Napoleon), of Carolina and Gioachim Murat, of Elisa Baciocchi.
Canova's consecration
The commission of the portrait of Paolina Bonaparte Borghese consecrated definitively the fame of Antonio Canova. Created around 1804, Paolina is represented under the image of Venus, now exhibited in Rome in the Borghese Gallery.
Other sculptures
In these years he sculpted the monument of Vittorio Alfieri for the church of Santa Croce in Florence and the one to Christine of Austria in the Augustinian Church in Vienna (1805). In 1813 he completed the "Three Graces" (St. Petersburg, Hermitage Museum).
The recovery of art objects
The pope entrusts him with the diplomatic mission of recovering the works of art brought to Paris by Napoleon.
The sculptural works of this last phase of his activity are connected by the creation at Possagno of an temple inspired by the Pantheon of Rome. Here, besides a large number of works, are the (mortal) remains of Canova, who died in Venice in 1822.
Some of Antonio Canova's works