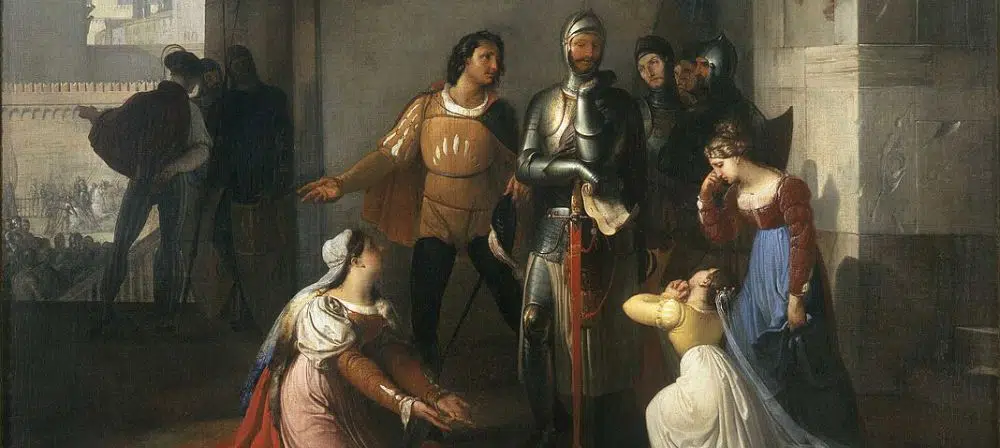 Francesco Hayez – Venice 1791, Milan 1882
Francesco Hayez is one of the most important Italian artists of the 1800s. In 1804 he attends nude drawing classes at the Academy of Venice, and in 1809 he wins the contest for a boarding school in Rome. During the trip, he stops in Florence where he visits Pietro Benvenuti's studio. In Rome Hayez attends the Canova's studio which becomes his tutor and teacher.
The artist with Canova in Rome
In 1812 he also won the first prize in the competition organized by Brera Fine Arts Academy in Milan with the "Laocoonte".
Francesco Hayez returns back to Florence in 1814, and moves to Rome where he won the competition of the Academy of San Luca with "Triumphant Athlete". During this stay in Rome, thanks to Canova, he has been designated to the execution of a series of frescoed lunettes in the Chiaramonti corridor of the Vatican Museums. In 1817 he gets married and returned to Venice.
Francesco Hayez in Milan
He began to conclude relations with the Milanese circle thanks to the friendship of the painter Pelagio Palagi. In 1820 he moved permanently to Milan, where he painted the "Pietro Rossi As A Prisoner Of The Scaligers" (Milan, private collection) exhibited in Brera in 1820 and acclaimed as the first romantic painting of Italian artworks.
His exhibistion at Brera academy
From 1823 to 1831 Francesco Hayez took part in the exhibitions of the Brera academy with a series of paintings that made him the leader of romanticism. Some of these works are "The last kiss of Romeo and Juliet" (Tremezzo, Villa Carlotta), "Peter the Hermit" (Milan, private collection), "Refugees of Parga" (Brescia, Pinacoteca Tosio Martinengo).
Portraiture activity
Francesco also began intense portraiture activity. For Ferdinand I Emperor of Austria he painted, around 1840, "The Last Meeting between Jacopo Foscari and his Family Before Being Sent into Exile" (Milan, private collection).
An awarded Italian artist
In 1844, he moves to Naples and Sicily to paint the "Sicilian Vespers" (Rome, Galleria d'Arte Moderna). Francesco Hayez is now an established painter. He receives many official awards, attends Brera exhibitions constantly, and exhibits in Munich, Wien and Paris. In 1850, he is appointed professor of painting at the Brera Academy. In 1859 he exhibits "The Kiss" (Milan, Pinacoteca Brera) and the following year he is appointed president of the academy. In 1869, he dictates his "Memoirs".
Some of Francesco Hayez's works