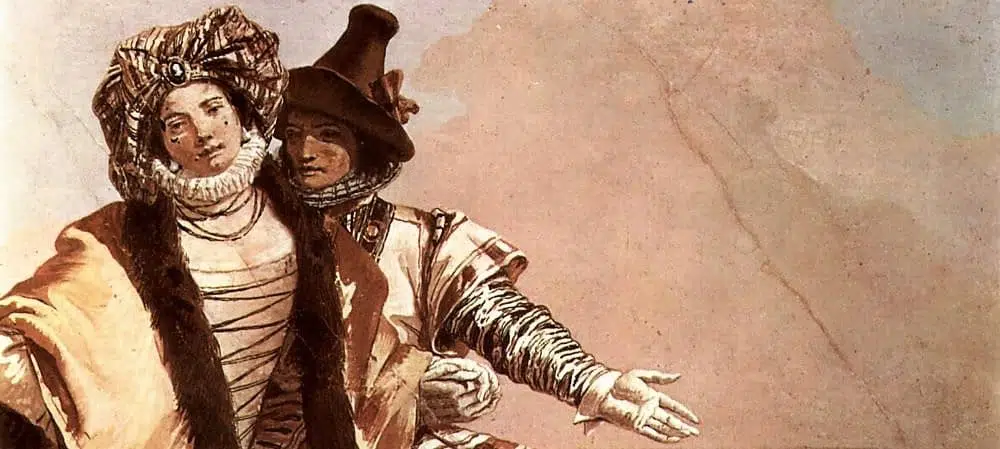 Giandomenico Tiepolo – Venice 1727, Venice 1804
Giandomenico Tiepolo, son and pupil of Giambattista, collaborates with him both in Italy and abroad, in Würzburg and in Madrid. His style, far from his father's refined and grandiose, finds expression almost exclusively in a more realistic depiction. A result that gives ample space to the description of the attitude and clothing of the figures. They are outlined with caricatural and grotesque graphic traits, and are characterized by a remarkable narrative vivacity.
European museums
The paintings by Giandomenico Tiepolo are preserved in the main European museums ("Minuetto" at the Musée du Louvre in Paris, "Il burchiello" at the Kunsthistorisches Museum in Vienna, "Departure of the gondola" at the Museo del Prado in Madrid). Among the main works are the decorative cycles in the villa Valmarana in Vicenza (1757) with landscapes and genre scenes. As in the villa of Zianigo and the paintings in the church of San Francesco di Paola in Venice, with participants and situations strongly characterized ("The Demoniac Healed").
Giandomenico Tiepolo as a graphic
Worth a note also his extensive activity as a graphic designer. In this context Giandomenico Tiepolo reproduces his father's works, also creating original elements. Among these works stands out the graphic series of the "The Flight into Egypt", made in Wurzburg in 1753.
Some of Giandomenico Tiepolo's works