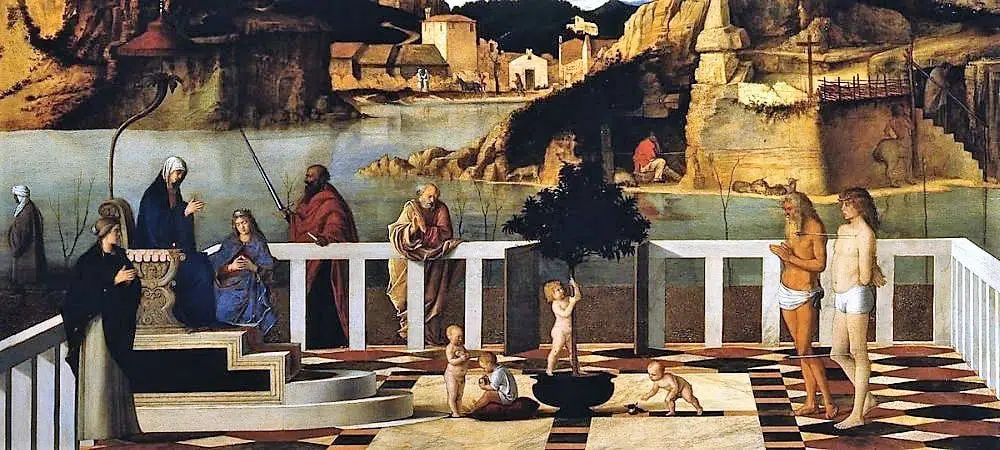 Giovanni Bellini – Venice about 1432, Venice 1516
Giovanni Bellini is the son of the painter Jacopo Bellini with whom he begins his painting activity together with his brother Gentile. Unfortunately, there is little information on the years of his youth, but in 1459 he already had his own workshop in Venice.
Giovanni Bellini and Andrea Mantegna
In the paintings of his younger year, up to about 1460, Giovanni Bellini demonstrates that he is still moving within his father's style. But soon, in his works, the influence of Andrea Mantegna's art is felt. The similarity with Mantegna is evident above all in works such as the "Agony in the Garden" (London, National Gallery), the "Transfiguration" and the "Crucifixion" (both in Venice, Museo Correr), the "Presentation at the Temple" (Venice, Pinacoteca Querini Stampalia), the "Pietà" (Milan, Pinacoteca di Brera). Probably from this same period is also the "Saint Vincent Ferrer Altarpiece" in the church of Santi Giovanni e Paolo in Venice.
Official painter of the Serenissima
From the early seventies is the great altarpiece of the "Coronation of the Virgin" (Pesaro City Museums) and perhaps the "Dead Christ Supported by Angels" in the city museum of Rimini. Furthermore, the fundamental "San Giobbe Altarpiece" (Venice, Gallerie dell'Accademia), the "Frari Triptych" (1488, Venice, Frari basilica) and the "Barbarigo Altarpiece" (1488, Murano, San Pietro Martire church) are placed in the following decade. Giovanni Bellini was appointed official painter of the Serenissima in 1483. At his death, the place will be assigned to Titian. Perhaps a 16th-century work is the "Holy Allegory" of the Uffizi in Florence, followed by the "Madonna del prato" (Madonna of the Meadow – London, National Gallery) and the "San Zaccaria Altarpiece" (1505, Venice, San Zaccaria).
At the court of the Este in Mantua
From 1496 to 1505 several contacts are documented with Isabella d'Este in Mantua, who wanted a painting by Giovanni for her closet. Masterpieces of the last period are the "Feast of the Gods" for the Este (1514, Washington, National Gallery), the "Naked Young Woman in Front of a Mirror" (1515, Vienna, Kunsthistorisches Museum), the "Drunkenness of Noah" (Besançon, Musée des Beaux-Arts).