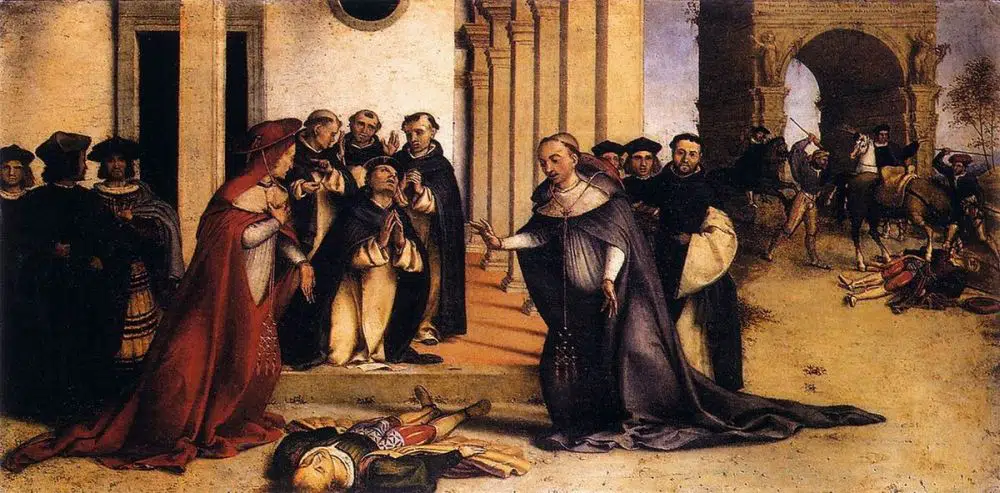 Lorenzo Lotto – Venice 1480ca, Loreto 1556
Lorenzo Lotto is one of the main exponents of the early sixteenth century Venetian Renaissance. As a Venetian artist, his training remains unclear, a painter whose work is only known starting from 1505. The master has been probably oriented to art in Giovanni Bellini's workshop.
Antonello da Messina and Albrecht Durer
The works left in Venice by Antonello da Messina and Albrecht Durer must have greatly influenced his training. A hypothesis that can be confirmed by the acute naturalism of the portraits and the attention to the light that characterize the oldest works. Some of these works are the "Portrait of Bishop Bernardo de' Rossi" and the altarpiece with the "Madonna with Child, St Peter of Verona and Donor" realized in Treviso between 1503 and 1506. Today both are in the Capodimonte Museum in Naples . Or the "Saint Jerome in Penitence" which is exhibited today at the Musée du Louvre.
Lorenzo Lotto between Recanati and Rome
From 1506 to 1508 Lorenzo Lotto settled in Recanati, where he executed the polyptych for the church of San Domenico (Municipal art gallery). The journey to Rome, where the painter was in 1509, marks the approach to more classical and built forms due to the influence of Raphael (the "Transfiguration" at the Municipal art gallery of Recanati, and the "Deposition" at the Municipal art gallery of Jesi).
The artist in Bergamo
The long activity carried out by Lorenzo Lotto in Bergamo, where he remained from 1513 to 1525, is of great importance for the diffusion of Venetian painting in Lombardy. In addition to various altarpieces – such as the "Martinengo Altarpiece" (1513-16) or the "San Bernardino Altarpiece" (1521) – some fascinating portraits refer to the Bergamo area. A very important cycle is that which the painter frescoes by 1524 in the Suardi oratory in Trescore.
His commitment between Veneto and the Marches
The following years saw Lorenzo Lotto engaged in an intense activity divided between Veneto and the Marches. Among the most significant works of these years we find the "Madonna of the Rosary" of 1529 in the church of Cingoli, and the "The Alms of St Antoninus" of 1542 in the church of Santi Giovanni e Paolo in Venice. The last years of activity take place in Loreto, where the painter dies.
Lotto's work, little-known and scarcely appreciated in the past, has been re-evaluated by modern critics, who have recognized an authentic alternative to the courtly language of sixteenth-century classicism.
Some of Lorenzo Lotto's works