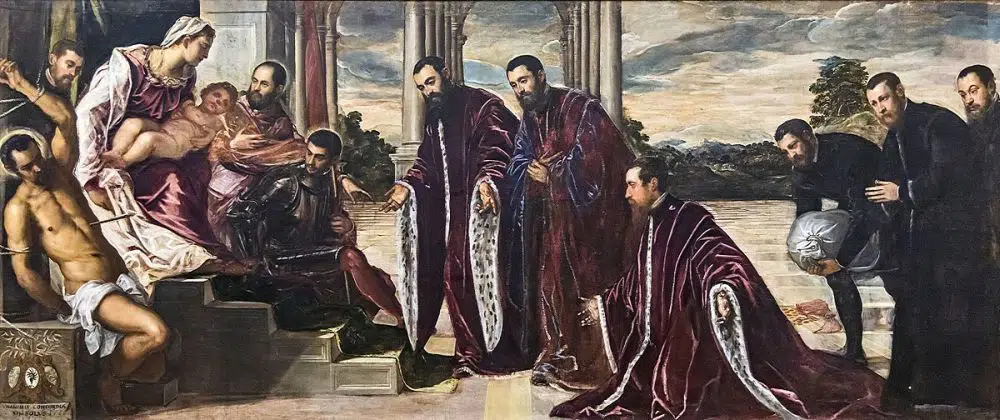 Jacopo Comin known as Tintoretto (Venice 1518 – 1594)
Jacopo Comin got the nickname "Tintoretto" due to his father that was a dyer (tintore in Italian). He spent his whole life in Venice. His artistic training took place in years that saw the fame of Titian, and reflected the outcomes of Roman and Tuscan painting schools. A period of a century that saw the birth of Paolo Veronese.
Tintoretto and the Scuola Grande di San Marco
In 1548 Tintoretto completed the spectacular "Miracle of the Slave" for the Scuola Grande di San Marco, a painting that won him great fame in Venice. Between 1562 and 1566 for the same school he also painted three canvases with episodes of the life of the saint, including the spectacular "Translation of the Body of Saint Mark" (both paintings are in Venice, Gallerie dell'Accademia).
Scuola Grande di San Rocco and Palazzo Ducale
In the years that followed, Tintoretto painted canvases of vast surfaces, such as the "Crucifixion" in the Sala dell'Albergo of the Scuola Grande di San Rocco. Between 1574 and 1577 the venetian painter was engaged in the prestigious commission of the decoration of the Palazzo Ducale rooms, made mainly by his large workshop. In these years he also dedicated himself to the large canvases in the Sala Superiore and the Sala Terrena of the Scuola di San Rocco. The subjects, depicting "Stories of the Old and New Testaments", declare a marked preference for spectacular miraculous events. In the Sala Terrena, the "Stories of the Virgin" show Tintoretto oriented towards more peaceful compositions with large landscape backgrounds.
The fame of Tintoretto
Among the works performed in his late years, "The last supper" of the church of San Giorgio Maggiore in Venice presents Tintoretto as a painter capable of almost visionary scenes of exceptional intensity. The fame achieved by the artist is evidenced by the succession of requests for public and private works, paintings with religious and profane subjects, such as "Ariadne, Venus, and Bacchus" (Venice, Palazzo Ducale). Even his portrait work has been very successful. In fact, he has created memorable portraits of intense psychological rendition, like the "Portrait of a Young Man" at the Pinacoteca di Brera, the "Portrait of Procurator Jacopo Soranzo" (Venice, Gallerie dell'Accademia) and the "Portrait of Alvise Cornaro" (Florence, Galleria Palatina).
Some paintings of Tintoretto