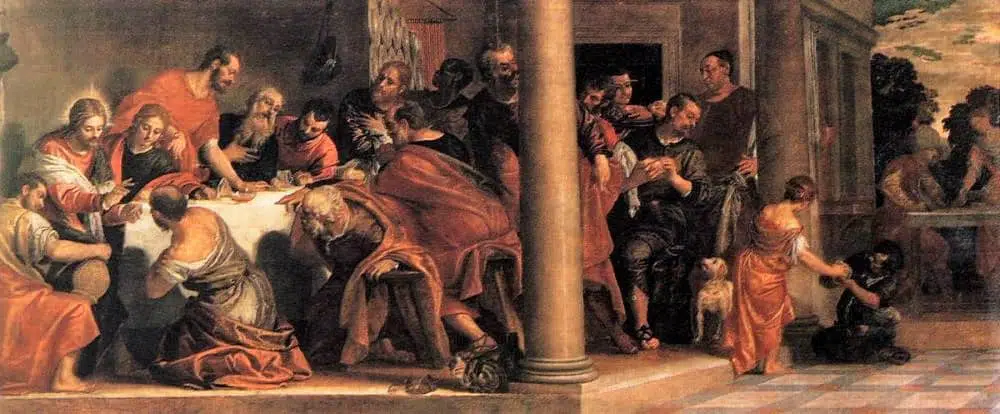 Paolo Caliari known as Veronese – Verona 1528, Venice 1588
Paolo Caliari, contemporary of some of the most important artists as Tintoretto and Titian, completes his artistic apprenticeship in the area of Verona. The first documented work is the "Bevilacqua-Lazise Altarpiece", executed around 1548 for the church of San Fermo in the city of Verona. Today, this work is preserved in Castervecchio museum. In these years, like many artists of his generation, probably Veronese was involved in the decoration of the Venetian patricians' villas located in the Veneto region.
Veronese in Venice
In 1553 Veronese arrives in Venice, where he leaves works of intense chromaticism. The first work performed during his stay in Venice is in the Council of Ten's room of the Doge's Palace: the decoration of the ceiling, where in one of the panels he painted the myth of "Arachne". The canvases got an immediate success and made Veronese one of the most sought-after painters in the city. In 1555, in Venice, he undertook the decoration of the church of Saint Sebastian which engaged him for several years.
Roman figurative culture
The journey to Rome, completed in 1560, renews the artist's interest in the Roman figurative culture. At the beginning of the following decade, perhaps he executed his most famous frescoes: the decoration of Villa Barbaro in Maser, a masterpiece of Andrea Palladio, that dates to 1561. The painting "The Wedding at Cana" (Paris, Musée du Louvre) for the refectory of San Giorgio Maggiore's church in Venice is of the same years.
Veronese and the inquisition
He then worked for customers of Verona: for the church of San Sebastiano he performed "The Family of Darius before Alexander" (London, National Gallery), a painting in which he demonstrates full mastery of perfectly balanced monumental compositions of figures and architecture. In 1573 he performed the most famous of his great suppers, the "Last Supper" commissioned by the Dominicans of Saints John and Paul's church for their refectory. As the inquisition questioned the artist for the freedom of invention with which he had led the painting, he was forced to change its title in "The Feast in the House of Levi".
In the last years of activity, Veronese operates only at the service of the Holy Roman Emperor Rudolf II. His painting becomes even more precious and the landscape acquires a fundamental role.
Some of Paolo Veronese's works