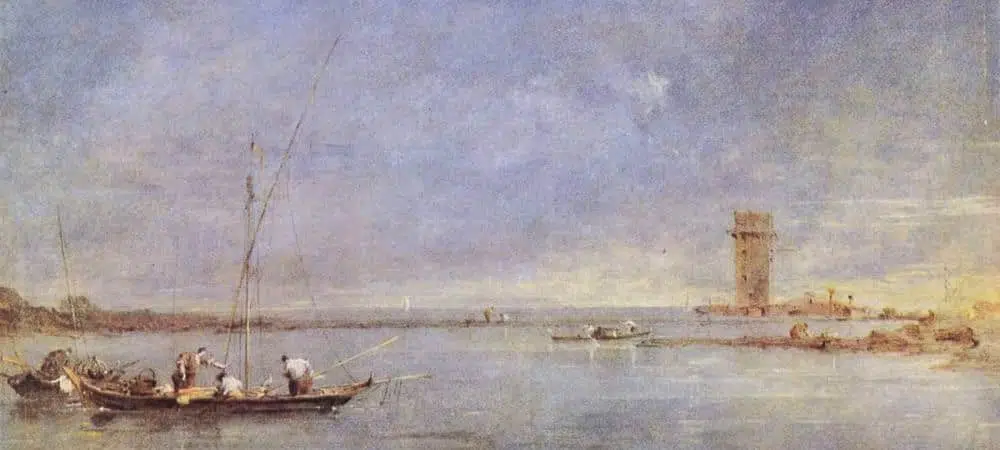 Francesco Guardi – Venice 1712, Venice 1793
His first vocational training took place in the workshop of his brother Giovanni Antonio in Venice, where he continues to practice most of his activity. This does not prevent him from developing his own personal language, even in the context of a Venetian genre painting. Francesco was also related to Giovanni Battista Tiepolo that his sister Maria Cecilia had married.
The light in his works
In Venice Francesco Guardi, like Canaletto, has great success as vedutista. In his works he shows a particular sensibility in the rendering of landscapes and figures, dramatically accentuated in the features through the broken contours, the color breaks, the abrupt chiaroscuro. In particular, light takes on a fundamental importance in his paintings, corroding almost to dissolving forms and sometimes becoming the absolute protagonist.
His works present themselves as fantastic reproductions with a visionary and immaterial character such as "View of San Pietro di Castello" (Lisbon, private collection), "The tower of Marghera" exhibited at the National Gallery in London, and "Rio dei mendicanti" at the Accademia Carrara of Bergamo. Francesco Guardi was officially commissioned to represent a record of celebrations in honor of famous people, such as Pope Pius IV and the Archdukes Paul and Maria Feodorovna of Russia with "Ladies Concert at the Philharmonic Hall" exhibited at the Alte Pinakothek in Munich.
Francesco Guardi and the sacred painting
Francesco Guardi was also the author of several works of sacred painting such as the "Miracle of a Dominican Saint" now at the Kunsthistorisches Museum in Vienna and "Saint Adoring the Eucharist" at the National Museum of Trento.
Some of Francesco Guardi's works